Walks and Rambles
Walking is a natural antidote for forgetting daily stress. It gives you the time to think, to relax and appreciate the silence and the countryside.
BAERENTHAL favours outdoor activity, whether it's on foot, horseback or on bike. The commune spreads over 4000 hectares, 80% of which is forest. You can discover the forests, the widespread of water, the fauna and flora associated with the Vosges du Nord.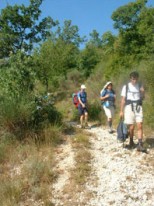 The local Club Vosgien keep the 150km or so of footpaths clean, 4 of which are around the village measuring from 5km to 20km. There are several long distance footpaths that cross the commune, notably the GR 53, the GR 532 and the "Tres Tabernae"
Whether you are looking for an active or relaxing holiday, whether you are with your family, alone or two or three, there is a footpath for you around the village.
Organized by the Club Vosgien: 'Marche Populaire'
(an organized walk – 10 or 20km)
the 2nd Sunday of October