Managing the Wasteland
Up until the 50's, there were no problems with abandoned land around Baerenthal, like most of the French villages, every square metre of land was exploited.
But when the small farming that was so nature conscious, started to disappear, a lot of the land became abandoned and soon became overgrown.
This was also the start of second home era, building in an anarchic nature in the valleys. Furthermore these first residents didn't loose much time in planting fir trees all around there property.
Towards the 1980's the valleys were overgrown with trees and bushes and in the damp areas, rushes and sedge took over, plants that are hard and jaggy and the problem started again.
It was the Vosges du Nord Regional Nature Park that was responsible for finding an original and ecological solution to these problems.
It was on the 'Day of the Environment' in 1991 that the first Highland Cattle were introduced in the Neuweiler valley in Baerenthal.
Coming from the Scottish mountains, these animals were very hardy. They could live outside all year round. They didn't have problems with there feet in damp areas and most importantly they ate poor quality vegetation such as the rushes and sedge, which were widespread in the valleys.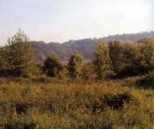 At the moment, there are two herds, 30 cows altogether that play an important role in keeping the valley tidy. They are also a great attraction to the tourists, young and old, filled with admiration before these ecologic lawnmowers.
But it isn't their only role, for the cattle also produce an excellent meat, particularly appreciated by the gourmets among us. Every autumn there is a festival called "Le paysage a du gout", (a taste of the countryside) where you can taste highland cattle meat in certain restaurants in the region.