Religious Heritage
The Protestant Church
In the middle ages, Baerenthal was an annex of the parish at Obersteinbach, the archpriest of Haut-Haguenau, Duchy of Strasbourg. The village assembled around the church of Saint Catherine.
In 1569, the Count of Hanau-Lichtenberg became proprietor of the village and the following year the Catholic religion was forbidden and the Protestant Reformation was imposed.
The church was restored in 1630 but they had to wait until 1739 before a protestant parish was created and the church was officially transferred.
Amongst the vicars that followed, Frédéric-Auguste IHME, (1834-1915) was the better known, as an historian but also for his love of music.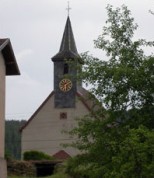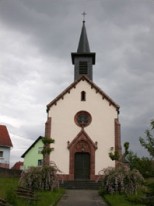 The Catholic Chapel
Realising that the small catholic community no longer had a place of worship, his Grace himself, from Pont des Loges, bishop of METZ and a great builder, financed a chapel dedicated to the Immaculate Conception. The front of the chapel shows the door and the window in Neo-Gothic style. It was inaugurated in August 1886, the same day as the benefactor died.
In March 1945, the chapel was badly damaged in the Allied bombardments.
After the war, the reconstruction was slow until Etienne OLLAND arrived in 1958. The latter had a serious illness. He had had a statue of the Virgin sculptured and was looking for somewhere to place it and discovered BAERENTHAL.
He accelerated the work on the chapel and installed the modern statue of the Virgin carved by the sculptor KELLER from MOLSHEIM and the chapel was named 'Notre Dame de la Confiance'. From the beginning of May, 1960 up to his death in 1971, Etienne OLLAND organised numerous pilgrimages de Notre Dame de la Confiance. Thanks to him the pilgrimages sprung to life and continue to this day.